- Totally not a surprise, but the CW is planning a massive
crossover
for all of the Berlanti-verse shows. A four night event of super heroics. Cue the ice cream gif: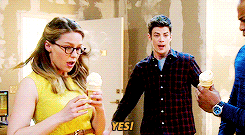 ( Wild speculation about the mega crossover )
If this crossover happens around episode 8, then that coincides with
Arrow
's 100th episode and this would be a fine way to celebrate.
- As for
Legends of Tomorrow
, which had its season finale this week...
( Spoilers for Legends of Tomorrow 1x16, "Legendary" )
The CW just needs another DC superhero show on Friday and then DC would have total domination over the schedule. Something for next next season maybe?